Authentic Restorations for Period Homes
Whether you are buying a fixer upper or restoring an old period home, the number one consideration for home restorations is the period in which the home was built. Whether your home has elements of a California bungalow, Federation or Edwardian styles, Art Deco, or the Contemporary architecture of the 70s and 80s, each of these styles will be evident in the detail.
RGH Home Improvements will carefully consider your existing wall panelling, ceiling, and plaster detail, as well as the facade when making restorations to your home. Our home restorations cover everything from skirting boards to architraves, handrails and balustrades to doors, eaves, ramps and weatherboard replacements. We have the period knowledge to add the home improvements you desire or simply restore your home to its previous glory.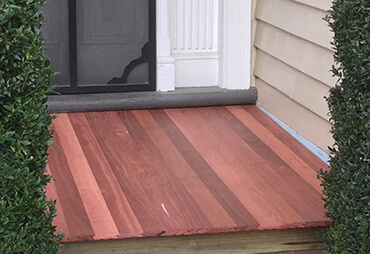 In the early 70s, the look was all about exposed timbers and embracing the connection of the home with the outside. We are seeing more and more of this in today's housing designs, with the growing popularity of alfresco dining, timber decking and the addition of pergolas. A deck is an addition to a house that can really add to the function of your home. Whether you require a small landing outside the laundry door or a large addition for entertaining family and friends, RGH Home Improvements can restore/repair your existing space or build a new outdoor space designed just for you.
Quite often, when working with 70s and 80s properties, the aim is to open up the living and kitchen areas, to allow greater communal living. Floors can often be a hidden gem in these properties, finding hardwood floors underneath old lino or carpets, which if you can restore is always a bonus. However, an engineered board or replacement floor can also invigorate your home with new style.
If your restoration becomes a bigger project or you would like to consider open plan living or adding on an extra room, please refer to the Home Renovations and Home Extensions sections or complete our contact form.
Period Weatherboard Restorations
Weatherboard Repairs
The weatherboard look in Australia can be dated back to some of the earliest days of European heritage. To own a weatherboard home is to own a piece of history; one that exudes style, charm, and legacy. While this is wonderful when your home is in pristine condition, weatherboards are prone to a range of weather damage and deterioration, from rotting to chipping, flaking to fading.
At RGH Home Improvements, our weatherboard repairs will restore the condition of your weatherboards and reinstate their sense of charm. Working meticulously to match the style and era of your home, our weatherboard repairs won't just fill the gaps, they will create a seamless style for your home's façade.
If weatherboard repairs aren't possible for your home, we will work tirelessly to recreate the essence of your property with replacement weatherboards. Conversely, if you're interested in creating a new look with weatherboards, our restoration experts will happily work with you to find your new style.
Since 1984 RGH Home Improvements has been providing with the very best in Home Renovations & Improvement solutions across Melbourne including in areas like Blackburn, Nunawading, Box Hill, Burwood, Glen Waverley, Mitcham, Mount Waverley, Mulgrave, Notting Hill & more. Call 0408 375 230 to learn more.